From Basingstoke to Portsmouth and Winchester, Hampshire roadside verges have grown long and floral as a result of local council support for No Mow May, the Plantlife campaign to increase plant and insect diversity.
Common wild plants such as meadow buttercup, cow parsley, comfrey, red clover and ox-eye daisy have been allowed to flower rather than being mowed off by contractor's machinery. In some places rarer plants such as pyrimidal orchid and birds-foot trefoil have flowered, the latter being an important food plant for a large number of insect species.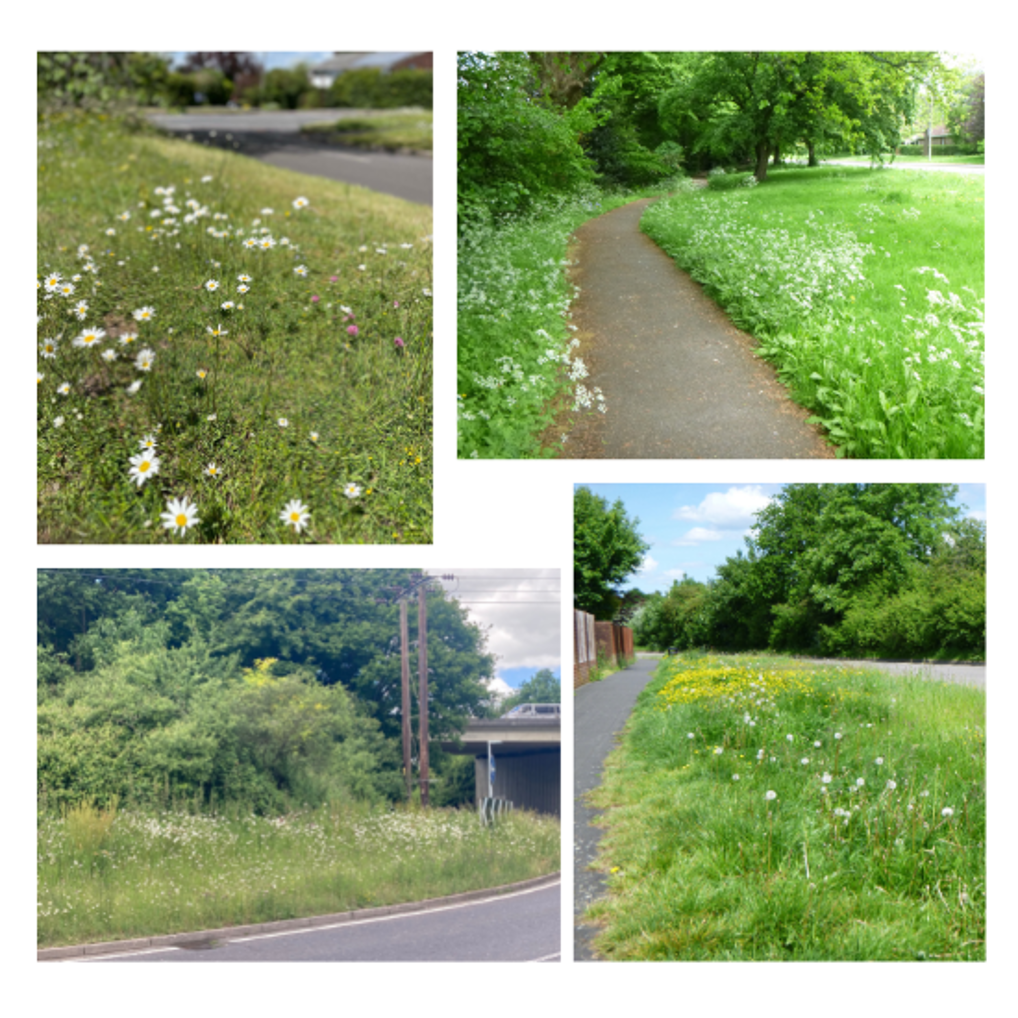 Working with East Hampshire District Council (EHDC) and Alton Climate Action Network (ACAN), last year Petersfield Climate Action Network (PeCAN) looked at ways to help the council identify which of the verges in Petersfield could be suitable for conservation mowing and which must be kept short for traffic safety reasons.  East Hampshire District Council's portfolio holder for Climate Change and Placemaking, Councillor Robert Mocatta, said, "Not mowing our open green spaces helps support the survival of bees and other pollinating insects, and allows natural wildflowers to thrive, all of which are an essential part of the ecosystem. We are taking part by leaving some areas of our green spaces wild. The idea is to let the grass and flowers grow, providing increased nectar sources for insects during May". 
EHDC officers nominated a number of roads in Petersfield* that would join the initiative, as well as six large verges in Alton. Hampshire County Council has also left many of the verges it manages unmowed, such as Tor Way and the A3 access roundabouts.  Petersfield Town Council has also adopted a relaxed method of mowing at some of our public open spaces such as Love Lane Playing Fields and Woods Meadow play park, where wider margins and longer clumps have been left untouched this month.
Parish Councils like Buriton have joined the project, as have housing estates like Ramshill in Petersfield.  "The need for us to help nature cannot be over-stated", says Melanie Oxley, who heads up PeCAN's Valuable Verges campaign. "When the UN announced "insect Armageddon" in 2018 it became clear that much of the wildlife we take for granted, such as birds and bats, will struggle to find enough food following the crash in insect populations, and that crops and other beneficial plants would lose their natural pollinators".
Hampshire's verges measure around 770km. They provide important connectivity for insects, birds, mammals and plants, especially in towns and cities where they act as corridors joining our parks, gardens and the wider countryside. Leaving many of them unmowed contributes to increasing biodiversity locally. "Every little bit we do does make a difference", says Melanie, "and we can all help by nurturing a verge or by keeping our gardens less manicured".
However, for the scheme to be truly successful, PeCAN emphasises there will need to be investment in new machinery that will not only cut the longer vegetation, but also take it away from the site. Such "cut & collect" equipment is already being employed by Id Verde, the Winchester City Council contractors.
For more information see Wildflower Verges Campaign and find out more about protecting our environment and biodiversity at Petersfield's first Eco Fair to be held on the Heath on Sunday 17th July.
*EHDC's No Mow May verges:
• Cranford Road
• Kennet Road/Avon Close
• Festival Hall, Heath Rd
• Lower Heyshott
• Lower Mead
• Heath Common (between Thorn Close and Gorse Road)
• Woodlark Gardens (between Linnet Close and Woodlark Gardens)