Food waste is a big contributor to landfill across the country and around the world and people are keen to tackle the problem.
Petersfield Free Shop started in April 2018 with the aim of reducing food waste and giving it to the local community.
It's open to anybody who might need it or who wants to tackle food waste - you don't need a food voucher, you can just turn up. It's located at The Hub at Petersfield train station.
Lucy Lomax, who runs the free shop, said: "We started up three and a half years ago to tackle food waste. We were aware that food goes into landfill from the supermarkets and sometimes allotments also have surplus food.
"So we have this community space which the railway donated. I had this crazy idea to set up a free shop and it has just grown and grown.
"We get the food from the supermarkets and we also get donations from allotments from people. If someone has too much of something they might empty their cupboard and have a clear out."
The free shop accepts anything that doesn't need to be refrigerated such as meat.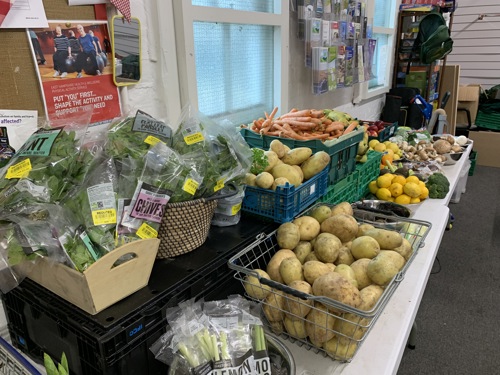 "People come in and they take whatever they can use. They might come in and take carrots and they might roast them or they might make soup with them," Lucy added.
"People absolutely love it and it has a reputation in the town now. A lot of people know about us. They come from the villages nearby like Liss - we've even had people come from Midhurst."
They also stock second hand school uniform, giving parents the option to pick up used uniform to help lower the costs and ensure clothing is getting a second wear.
"We decided to do school uniform because noone else in town does it and we felt that people would really benefit.
"When someone has grown out of something, what do you do with it? It seems such a waste so it's all about recycling and it's proving more popular as time goes by.
"Uniform is very expensive. We don't compete with charity shops or with the lady who sells on the market. We appreciate times are hard with everyone so we tend not to clash."
Now, a new campaign has been launched to keep people warm this winter.
The Winter Warmer Giveaway encourages people to donate second hand coats, hats, gloves and scarves for people of all ages.
Donations will be accepted at the free shop on Saturday, October 15th from 12pm until 4pm and at Winton House from Monday, October 10th until Friday, October 14th between 9.30am and 3.30pm.
They will then be given away and people can come and collect on Sunday, October 16th and Monday, October 17th at the free shop between 10am and 2pm.
Lucy added: "People will benefit so much. A lot of people you talk to have spare coats, hats, gloves and scarves so we just want it to be recycled within the community. I think it will be really popular."
The free shop is open on Wednesdays from 1.30-3pm and on Fridays and Saturdays from 10am-12pm.