Paul heard about the Petersfield Area SuperHomes (PASH) project after he attended a meeting in his local village of Selborne, where Petersfield Climate Action Network (PeCAN) were presenting to the public.
The PASH project, run by PeCAN, involved a professional retrofit coordinator carrying out a report on your home, giving step-by-step guidance about the changes to make and in which order to do them in.
Paul, who lives in a detached property in Selborne, had the survey carried out and was given three main recommendations which included improving the insulation in the loft, replacing his old gas boiler with a heat pump and getting solar panels and a battery installed.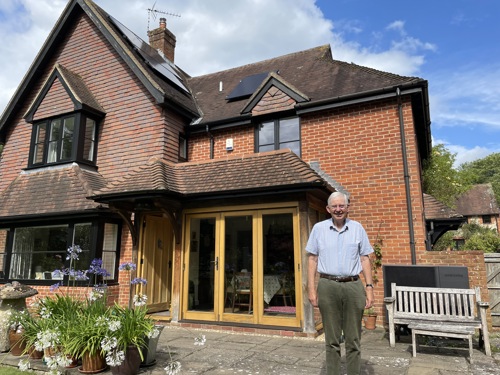 Paul has also changed his petrol car for a hybrid car, reducing the need to buy fuel.
He said: "I had started this project because in the back of my mind I knew my gas boiler was getting to the end of its life."
He had the heat pump installed and then replaced his gas hob for an induction hob. He got rid of his gas meter and his property is now totally off-gas.
Paul also benefited from the capital grant scheme which meant he was entitled to a further £2,500 off the cost of his solar panels.
So, would Paul recommend a home retrofit project?
"I think it's a great idea and I am very pleased with the results," he said. 
"The solar panels were in during the first week of May and the rest of May and the whole of June were glorious so I was generating much more than I was using.
"After the meeting with PeCAN, this was entirely on my mind. I didn't do this to save money - it's all about the environment."
So what does a retrofit project entail?
A professional retrofit coordinator carries out an independent, impartial assessment looking at the energy efficiency of your home. They take that assessment and produce a plan of the changes that you could make to your home to reduce your energy bills, increase your comfort levels and reduce your carbon footprint. Recommendations will vary from house to house but will often include the following measures:
Loft insulation
Cavity wall insulation
Double glazing
Ventilation
Solar panels to generate renewable energy on the roof
Changing a gas or oil heating system for a low carbon heat system such as a heat pump
Critically the plan gives you a whole house view and is independent, giving you the confidence to engage with installers when it is right for you. PeCAN can provide a list of qualified Retrofit Coordinators and Installers that operate in the local area for you to engage with.
To find out more, contact us.