Sponsored by Petersfield Climate Action Network, the Green Business of the Year award winner was announced at the Petersfield Awards, held at Churcher's School on Friday, October 20th.
The other shortlisted businesses were Little Leaf Play Cafe, the town's other refill store Juniper and hosting and web development firm Umbhost Limited.
Laura Hayward, owner of Refill and Replenish said: "It's amazing. I'm very happy that people voted for us because it means a lot for the work that we do.
"With the cost of living crisis and everything else that's going on in the world right now, it's nice to know that people still appreciate us and want to shop with us."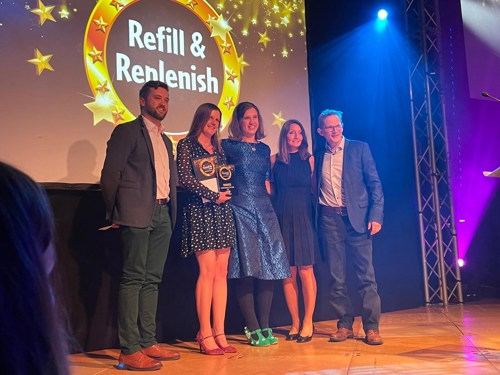 Greg Ford, chair of PeCAN, said: "Congratulations to Refill and Replenish on winning this prestigious award. We are delighted to have sponsored the very first Green Business of the Year award.
"We hope that it will encourage more businesses to look at reducing their carbon footprint and to become more sustainable.
"We are happy to support firms in their journey as we continue with our mission to reduce carbon emissions and protect nature."
The criteria for the shortlisted businesses to meet were:
Environmental Impact: Measures the business's footprint and efforts to reduce energy, water, waste, and emissions.
Sustainable Practices: Evaluates eco-friendly sourcing, circular economy initiatives, and reduced plastic usage.
Innovation and Green Technologies: Considers adoption of renewable energy, energy-efficient equipment, and smart technologies.
Social Responsibility: Assesses community engagement, diversity, fair labour practices, and social impact projects.
Education and Awareness: Examines efforts to educate and raise awareness about environmental issues.