Ani Colville and Crispin Paine, who live in Liss, had become aware of PeCAN after attending local meetings and meeting volunteers at events.
So when they heard about home retrofit, they were keen to get involved and do their bit.
Ani said: "We wanted to get involved because we care about the environment and we felt we needed to help in an ecological way.
"We've both been trying to be green for a long time."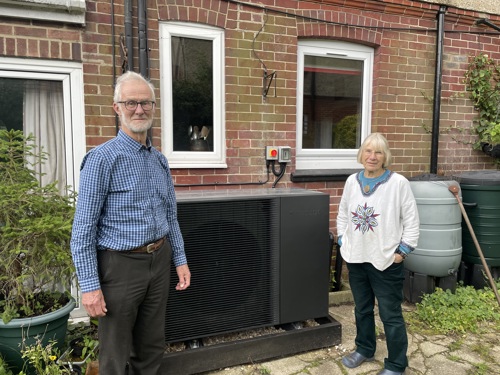 The couple already had solar panels on their roof, something they put in place several years ago, but they knew the boiler would need changing.
"We knew we had to change the boiler which was the catalyst," Ani added.
"It had been in since we moved into the house and we've been here 23 years. We knew every time they came to service the boiler that it was getting old.
"With the government announcing that gas boilers were going to be phased out anyway, we started looking around."
The couple hired a professional retrofit coordinator through PeCAN who carried out a Whole House Retrofit Plan on their home to help them see what changes they could make.
They were advised to change the windows as some of them were original windows from when the property was built in 1904.
They also made the big step of ditching their gas boiler and replacing it with a heat pump.
"It's nice to be able to keep the cold out and the warmth in. It saves the earth and in theory, it saves you money," said Crispin.
So, was the report useful?
"PeCAN has been so helpful all the way along, every time we didn't know what we were doing. We would phone or email and we always had replies and they were always fantastic," added Ani.
"We are delighted with the work. I would definitely recommend home retrofit."
A professional retrofit coordinator carries out an independent, impartial assessment looking at the energy efficiency of your home. 
They produce a plan of the changes you could make to your home to reduce your energy bills, increase your comfort levels and reduce your carbon footprint. 
Recommendations will vary from house to house but will often include the following measures:
Loft insulation
Cavity wall insulation
Double glazing
Ventilation
Solar panels to generate renewable energy on the roof
Changing a gas or oil heating system for a low carbon heat system such as a heat pump
Critically the plan gives you a whole house view and is independent, giving you the confidence to engage with installers when it is right for you. 
PeCAN can provide a list of qualified Retrofit Coordinators and installers that operate in the local area for you to engage with.
To find out more, contact us.