Reading a profound book can be life changing. These books have been recommended by our network as positive, encouraging, action based books that can help foster hopefulness and a re-imagining of what the future could hold.  Shop locally by supporting Petersfield's independent book shop One Tree Books, at 7 Lavant Street. You can order books directly from them using this online form.



RetroSuburbia - The Downshifters Guide to a Resilient Future
by David Holmgren
RetroSuburbia is part manual and part manifesto. The book shows how suburbs (Australian, but can be easily linked to the UK) can be transformed to become productive and resilient in an energy descent future. It focuses on what can be done by an individual at the household level, rather than community or government levels. It is a source of inspiration, introducing concepts and outlining patterns and practical solutions. It empowers people to make positive changes in their lives. As with David's previous work, it is thought provoking and provocative.  You can read more about the project here.
 
Stir Magazine
by Stir to Action
Quarterly magazine plus digital archive, just £16 a year, features original illustrations, long-form interviews, and in-depth articles that move beyond traditional commentary and opinion to explore the inspiring and viable alternatives to the current political and economic crisis. The magazine explores new economic alternatives, where the democratic economy and civic society come together.  You can purchase a subscription here.

Cultural Emergence - A Toolkit for Transforming Ourselves & the World
by Looby Macnamara
Cultural Emergence is an invitation to create cultures of personal leadership, collective wisdom and Earth care. Emergence initiates breakthroughs that expand our thinking and enable us to build personal and collective resilience, and embody new ways of being and interacting. It nourishes and empowers us to design the world we want to live in.  More information about the toolkit here.

Ending Fossil Fuels - Why Net Zero Is Not Enough
by Holly Jean Buck
Around the world, countries and companies are setting net-zero carbon emissions targets. But "net-zero" is a term that conveniently obscures multiple futures. There could be a version of net-zero where the fossil fuel industry is still spewing tens of billions of tons of CO2 into the atmosphere, and has built a corresponding industry in sucking it back out again. Holly Buck argues that focusing on emissions draws our attention away from where we need to be looking: the point of production. It is time to plan for the end of fossil fuels and the companies that profit from them. Fossil fuels still provide 80% of world energy and ceasing their use before there are ready alternatives brings risks of energy poverty. The fossil fuel industry provides jobs, as well as a source of revenue for some frontline communities. Conventional wisdom says that fossil fuels will be naturally priced out when cheaper, but this raises as many problems as it addresses. Ending Fossil Fuels tackles these problems seriously and also sets out a roadmap that offers opportunities for a more liveable, inclusive future.
 
Plunder of the Commons - A Manifesto for Sharing Public Wealth
by Guy Standing
We are losing the commons. Austerity and neoliberal policies have depleted our shared wealth; our national utilities have been sold off to foreign conglomerates, social housing is almost non-existent, our parks are cordoned off for private events and our national art galleries are sponsored by banks and oil companies. This plunder deprives us all of our common rights, recognized as far back as the Magna Carta and the Charter of the Forest of 1217, to share fairly and equitably in our public wealth. Guy Standing leads us through a new appraisal of the commons, stemming from the medieval concept of common land reserved in ancient law from marauding barons, to his modern reappraisal of the resources we all hold in common – a brilliant new synthesis that crystallises quite how much public wealth has been redirected to the 1% in recent decades through the state-approved exploitation of everything from our land to our state housing, health and benefit systems, to our justice system, schools, newspapers and even the air we breathe. Plunder of the Commons proposes a charter for a new form of commoning, of remembering, guarding and sharing that which belongs to us all, to slash inequality and soothe our current political instability.

Sand Talk - How Indigenous Thinking Can Save the World
by Tyson Yunkaporta
A paradigm-shifting book in the vein of Sapiens that brings a crucial Indigenous perspective to historical and cultural issues of history, education, money, power, and sustainability—and offers a new template for living. In Sand Talk, the author provides a new model for our everyday lives. Rich in ideas and inspiration, the book explains how lines and symbols and shapes can help us make sense of the world. It's about how we learn and how we remember. It's about talking to everyone and listening carefully. It's about finding different ways to look at things. Most of all it's about a very special way of thinking, of learning to see from a native perspective, one that is spiritually and physically tied to the earth around us, and how it can save our world.
A selection of the Financial Times Best books of 2021: Climate and environment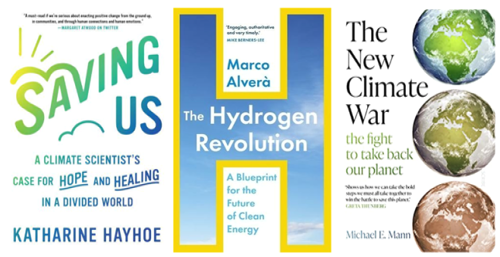 Saving Us: A Climate Scientist's Case for Hope and Healing in a Divided World
by Katharine Hayhoe
Called "one of the nation's most effective communicators on climate change" by The New York Times, Katharine Hayhoe knows how to navigate all sides of the conversation on our changing planet. A Canadian climate scientist living in Texas, she negotiates distrust of data, indifference to imminent threats, and resistance to proposed solutions with ease. Over the past fifteen years Hayhoe has found that the most important thing we can do to address climate change is talk about it-and she wants to teach you how.
In Saving Us, Hayhoe argues that when it comes to changing hearts and minds, facts are only one part of the equation. We need to find shared values in order to connect our unique identities to collective action. This is not another doomsday narrative about a planet on fire. It is a multilayered look at science, faith, and human psychology, from an icon in her field-recently named chief scientist at The Nature Conservancy.
Drawing on interdisciplinary research and personal stories, Hayhoe shows that small conversations can have astonishing results. Saving Us leaves us with the tools to open a dialogue with your loved ones about how we all can play a role in pushing forward for change.
The Hydrogen Revolution: A Blueprint for the Future of Clean Energy
by Marco Alverà
Picture this: It's 2050. The looming shadow of climate change is finally receding. The planet's temperature is stabilising. Rainforests and coral reefs beginning to thrive once more. We are returning to equilibrium with nature.
This isn't wishful thinking; it can be our reality. We just need to embrace hydrogen: the missing link.
The beauty of hydrogen is its simplicity. It's simple to make, and simple to use. You are essentially bottling sunlight from renewable energy sources in the form of hydrogen, and using it to bring clean energy to every corner of the globe. The best part about hydrogen is that when you use it, the only by-product is water.
As energy expert Marco Alvera explains, if we're going to heal the climate, we need to start thinking big. This book is the blueprint for how to get us there. Whether you are a policy maker, a business person, an activist, or simply curious, the message is this: there is hope, for us and our planet. Hydrogen can help save the world.
The New Climate War: The Fight to Take Back Our Planet
by Michael E Mann
A world-leading expert exposes how fossil-fuel companies have waged a thirty-year campaign to blame individuals for climate change while taking no responsibility themselves, and offers guidance on what we must do now to reverse global warming.
Recycle. Fly less. Eat less meat. These are some of the ways that we've been told we can save the planet. But are individuals really to blame for the climate crisis?
Seventy-one per cent of global emissions come from the same 100 companies. Companies that have spent the last 30 years using clever marketing techniques to place the responsibility for reversing climate change on individuals, whose actions — however well meaning — simply won't be enough alone. The result has been disastrous for our planet.
In The New Climate War, renowned scientist Michael E. Mann argues that all is not lost. He draws the battle lines between the people and the polluters — fossil-fuel companies, right-wing plutocrats, and petro-states — and outlines a plan for forcing our governments and corporations to wake up and make real change.