The SuperHomes project coordinated by the National Energy Foundation (NEF) and funded by the Energy Savings Trust (EST) delivered a total of 305 Whole House Retrofit Plans.
All of the plans were specific to each home and looked at things like insulation, ventilation, solar panels, windows and doors and replacing a gas boiler with a heat pump.
Peter Moss, lead trustee for the Superhomes project for PeCAN, said: "We are pleased that so many people now have a good understanding of how to improve their homes and many of those have already started to act on those plans.
"Home retrofit goes a long way to collectively reduce the carbon emissions of our homes.
"We have learned a lot from this project and are now working with The Environment Centre and community groups across Hampshire to ensure that we continue this work.
"There is an ongoing need for trusted independent and locally relevant advice to help homeowners navigate this complex environment with confidence and we want to make sure that we can be there for homeowners."
The project involved a professional retrofit coordinator carrying out a survey on each property, giving step-by-step guidance for homeowners about the changes to make and in which order to do them.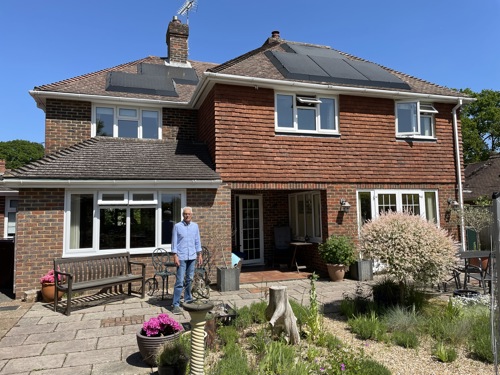 Homeowner Richard Tree was one of the customers who had a retrofit plan carried out on his property.
He said: "I'm very pleased I did it all and I have spoken to quite a lot of other people about it who are now thinking about doing the same thing.
"I would certainly recommend it. It all happened a lot quicker than I thought it might do. I think you need a project like SuperHomes because it's a bit of a minefield otherwise.
"I'm very pleased with what we've done."
As part of the project, 15 people were enrolled in Retrofit Coordinator training.
If all plans are completed, the annual carbon savings will be in the region of 2,700 tonnes of Co2 per year with annual fuel bill savings of almost £260,000.
To find out more about home retrofit, please visit petersfieldcan.org/home-energy.